We're in Drapers January 2015!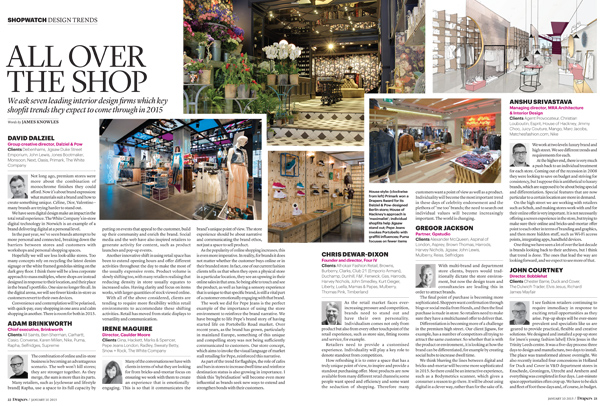 We are pleased to announce that MRA features in the Janary 2015 edition of Drapers magazine.
Speaking to Drapers, MRA Director, Anshu Srivastava, gives his predictions about this year's key shopfit design trends:
"We work at two levels: luxury brand and high street. We see different trends and requirements for each. At the higher end, there is very much a push back to an individual treatment for each store. Coming out of the recession in 2008 they were looking to save on budget and striving for consistency, but I suppose this is antithetical to luxury brands, which are supposed to be about being special and differentiation. Special features that are now particular to a certain location are more in demand. On the high street we are working with retailers such as Schuh, and making stores work with and for their online offer is very important. It is not necessarily offering a screen experience in the store, but trying to make sure their online and bricks-and-mortar offer point to each other in terms of branding and graphics, and then more hidden stuff, such as Wi-Fi access points, integrating apps, handheld devices. One thing we have seen a lot of over the last decade is brands looking back to their archives, but I think that trend is done. The ones that lead the way are looking forward, and we expect to see more of that."